Ottawa Counselling & Mediation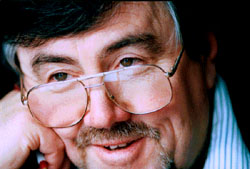 Hi, my name is Richard and I hope that you will feel right at home while navigating my website. I have provided a photo of myself that accompanied an article that was written about me in the Ottawa Citizen in 1997 entitled, "An Expert in Conflict." You will find this article included in my e-pamphlets. The internet can be a faceless, anonymous place and I therefore include my photo because "a picture is worth a thousand words."
In a sense, when you navigate through my website, browse descriptions of my Ottawa counselling services, and peruse my e-pamphlets, you will, in fact, be meeting me. That is my intent.
I am a very personable, friendly, and warm counsellor-mediator. I am also very humorous. My doctoral dissertation was entitled, "Enthusiasm: The Elixir of Life." I infuse my practice with positive life energy and dedication.
I concentrate on healing and empowerment rather than on being clinical and "helping." I am eclectic and I bring a wide range of skills, techniques, modalities, and wisdom to each counselling interaction and mediation session. My approach is "holistic" rather than clinical.
For nearly 40 years, I have provided positive, empowering counselling, mediation, and hypnotherapy services to enhance healing and facilitate recovery for clients.
I look forward to meeting with you and working with you to enhance your life and make the most of each moment.
Counselling in Ottawa
Individual Counselling Enhance empowerment and improve a client's ability to emotionally connect with himself or herself regarding issues such as depression, grief, loss, stress, anxiety, relationships, family conflict, self-esteem, identity, obsessive-compulsive disorder (OCD), sex, post-traumatic stress disorder (PTSD), and substance abuse.
Couples/Marriage Counselling Enhance empowerment and improve a couple's ability to communicate, emotionally connect, and worth through issues such as infidelity, infertility, sex, parenting, communication, trust, financial issues, co-dependency, mood, interpersonal conflict, co-parenting, and healthy relationships following separation or divorce.
Family Counselling Enhance empowerment and improve a family's ability to communicate and emotionally connect regarding issues such as family dynamics, teen issues, youth issues, financial issues, sibling rivalry, blended families, developmental issues, child custody, parenting plans, substance abuse, and alcoholism.
Hypnotherapy I have been in private practice as a Hypnotherapist for over 20 years. Hypnosis experiential and puts the client in a natural, relaxed, and focused state. It is based on empowerment and individual growth. Hypnotherapy can assist with a range of issues including fears, phobias, anxiety, insomnia, depression, stress, life transitions, and self-esteem.
Family Relations Mediation With more than 20 years of experience as a Comprehensive Family Mediator-Arbitrator, I have successfully completed more than 2,000 comprehensive mediations. As a neutral thirty party, I assist disputants reach constructive and fair resolutions. My services are known by several terms, including family mediation, financial mediation, separation mediation, divorce mediation, and family arbitration.
Ready to take the next step? Have questions? Fill out the form below to get in touch.