4 Ways to Keep Your Spirits Lifted This Summer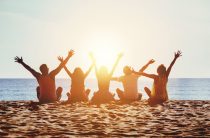 The summer weather can bring a wide range of emotions with it. While some individuals may be excited and ready to take on the summer weather, others may feel down. On top of this seasonal change, COVID-19 has had a major impact on mental health. It's no secret that everyone has felt a mix of emotions, and with new changes taking place every day, these emotions can feel heightened. To help you out, we've come up with 4 ways to keep your spirits lifted this summer! 
Remember to Keep Self Care a Priority 
With the reopening of many businesses including restaurants and patios, many are itching to get out and socialize. With that being said, it's still important to remember to set time aside for self-care too! Taking time each week, whether it be an hour each day or an entire evening to focus on yourself and feeling your best will help with any stress or overwhelming feelings you may be experiencing. 
Get a Healthy Dose of Sunshine
It's scientifically proven that feeling the warmth of the sun on your skin helps boost your mood. Spending time outside, whether alone or with friends will help give you that lift you need. However, it's important that you don't overdo it. Make sure to wear sunscreen and stay hydrated! While the sun can be great for your health, too much of it can leave you with a sunburn and potential heatstroke. 
Stay Active 
Staying active is a surefire way to boost your overall mood. Working out is known to release endorphins that will make you feel better, and overall boost your mood! If you're feeling down, we strongly recommend going for a walk, run, bike ride, or doing a quick workout at home. If you're looking to get active from the comfort of your own home,  YouTube and other social media apps have great tutorials and videos that you can follow for free!
Socialize with People You're Comfortable Around
Depending on your situation, socializing with friends or family is a great way to spend quality time and keep your spirits high. If you're feeling down, connecting with the people that make you feel good will put you in a better mood without you even noticing it! This doesn't have to be in person either. Using FaceTime or a similar app to talk and hangout is a great alternative if you aren't wanting to leave your home. If you do decide to get together in-person, remember to follow the current restrictions and social distance! 
If you find yourself struggling and in need of professional guidance, we encourage you to contact us at Ottawa Counselling today.