6 Ways You Can Live a Happier Life this Year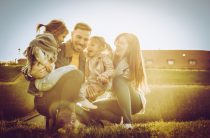 Are you looking for some new ways to live a happier life this year? Happiness is already within us; we just need to do some small tweaking to our habits and values to bring more of it to the surface. And there are some proven strategies that can improve the way you feel every day. So if you're looking for ways to live a happier life this year, check out our top six strategies to get more happiness in your life.
Let Go
Those past events that play over in your head, causing you anxiety, depression, and hurt are only holding you back. This year, make a promise to yourself to let go of past traumatic events and move on.
Be Happy With Your Decisions
You can live a much happier life when you stop seeking other people's approval.  By engaging in the actions you think are best and being happy with your decisions you can lead a more fulfilling life. It's the small decisions you make every day that creates your destiny. So make a commitment to not letting other people's opinions dictate how you live and to be confident in your decisions.
Stop Trying to Be Perfect
There's no such thing as a perfect life, and if you are striving to be perfect, then you will likely end up miserable. When you strive for balance rather than perfection you can start to feel good and at peace with yourself. By accepting our imperfections, we're freer to be our true selves and have more fun in life.
Realize You're Already Rich
Money isn't the only way to be rich. You can be rich in love, in health, in passion, and in life. Once you stop letting money be the driving factor for success and realize that you are already rich with all the things you have going for you, then you will start living a happier, enriching life.
Be Flexible
Being set in your ways instead of a little flexible could be doing more harm than good. Flexibility is one of the most important skills required for achieving your goals. The more you are open to learning new things the more enriched your life will be.
Contribute More
When touched by the gratitude of another person, life can be transformed. Giving unselfishly is the foundation of fulfillment and happiness. Nothing can give you a greater sense of personal satisfaction than contribution. So this year, get out more and volunteer to help your community and make a true difference in people's lives.
When you understand your thoughts, your feelings, and your values, you can find ways to get more happiness in your life.
At Ottawa Counselling, our professionals are here to help you cope with difficulties in your life and help you make lifestyle changes to reflect your values.