How to Break Out of Your Comfort Zone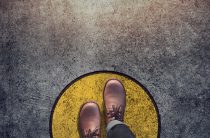 To get over the hurdles in your life that are keeping you from getting what you truly want, you have to change your routines and habits. If you really want to change then you need to break out of your comfort zone and get past your fear. Although it may sound challenging, it's actually easier than you think if you're truly committed to changing. Follow these 5 steps to get past your fears, break out of your comfort zone and get what you really want in life.
Face Your Fears
First, you need to figure out what you fear and what is holding you back. You need to look at what the worst-case scenario is of changing that fear, and what it will cost you if you don't change it. Sometimes the pain of not altering something is far greater than change that's required. Once you realize that the worst-case scenario is really not as bad as you thought, it will be easier for you to break that pattern and move beyond your fear.
Commit To Your Goals
Creating goals is one thing, but you need to solidly commit to them to move out of your comfort zone. Instead of saying "I should quit my job," change this to "I must quit my job" and make it a priority. Make a real decision and act on it immediately. This sense of urgent ambition and energy will quickly break you out of your comfort zone and propel you to move forward in life.
Change Your State
You need to change your entire mindset in order to achieve your goals. If you are feeling scared and stressed, you need to ask yourself why. These negative feelings will only hold you back. Do not let negative emotions limit you, do not let the pain of something in the past prevent you from moving forward in a new and better direction. Focus on all the positive ways that this change will improve your life and begin to focus on those points. Soon you'll be able to change your entire state of mind and instigate positive actions.
Improve Your Self
One way to get out of your comfort zone is to give yourself an entirely fresh look – a boost in your physical health and appearance. Go the gym, start a balanced meal plan, get a new haircut, buy some new clothes as a way to gain self-confidence. By changing your image, you can start to encourage positive motivation and feelings of self-worth that can help you crush your hurdles that are in the way.
Try New Things Every Day
A way to break out of your everyday comfort zone is to try something new. Create a list of new, interesting and different things you would like to try like zip lining, yoga, even a recipe, and try to do something new each day. This will help you get more comfortable with stepping outside of your comfort zone – even if it's baby steps.
You don't have to get stuck in your comfort zone. By facing your fears, committing to your goals, improving your thoughts, and trying new things, you can get past your hurdles and move forward with your life in the direction you wish.
If you're seeking help and guidance in pushing through your fear and stepping out of your comfort zone, Ottawa Counselling can help. We have experienced and professional counsellors available to talk to so you can learn new strategies that will assist you in overcoming your personal challenges. Contact us today.