5 Of The Best Wellness Apps To Install On Your Smartphone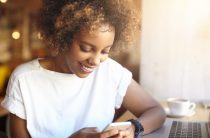 Even when you're seeing a therapist regularly, you may want to be able to access mood-improving wellness tools when you're on the go or at home. Fortunately, you can with one of these simple to use apps. Check out our list of the very best wellness apps to install on your smartphone that can give your mental and physical health a needed boost. 
Headspace
Looking for an app that will help clear your mind? Try Headspace. This easy to use app will teach you how to meditate and live mindfully in just a few minutes each day. You'll find sessions to help with everything – from sleep deprivation, work stress to anxiety. Plus, it also offers exercises to help diffuse a sudden meltdown and get you back up and running again. You can get access to many free sessions or purchase a membership for additional features.
My Possible Self
Another mental health and well-being app that should be on everyone's phone is My Possible Self. It starts with a self-guided assessment questionnaire that then turns into a personalized wellness plan. The app also lets you track your mood and add notes on what things make you feel great, good, okay, bad and awful. So you can start doing more of the things that make you feel happy and less of the ones that don't. The app also lets you look back on your entries so you can better understand your behaviour and break those bad habits that prevent you from feeling your best. 
Streak
Are you an avid list maker? If so, Streak might just be the perfect app to help you manage your overall wellbeing. It can help you plan and track things like eating a healthy diet, quitting smoking, running and more. You can choose up to twelve tasks each day to conquer. Then every time you complete one of your tasks, your streak gets extended, helping you to form new healthy habits. It will keep your health in check, make you accountable and help you meet more of your personal goals! 
Fooducate
We all know that our mental and physical health are directly tied to our diet. But sadly, many of us still don't really understand how the food we eat really affects us. Until now! Fooducate can teach you how to eat better to achieve your diet goals, get healthy and lose weight more naturally. Not only will it tell you what to eat, but it also lets you track your food intake and even scan barcodes to get a personalized nutrition grade. Fooducate will help you feel better inside and outside within no time.
Mood Kit
Looking for effective CBT strategies when you're on the go? Mood Kit provides over 200 different mood improvement tools that can help you learn how to change your detrimental behaviours. It can also help users identify and change negative thoughts and track daily mood and symptoms. If you suffer from anxiety or depression, this is one app you should be tuning into every day to help improve your mood and promote a better sense of wellbeing.  
You never have to handle depression, anxiety or mental illness alone. Contact us at Ottawa Counselling to experience a holistic approach to healing and empowerment. Here you'll experience positive counselling, mediation and hypnotherapy services designed to improve your mood and promote positive behaviour. Learn more about our individual, couples or family counselling sessions today.