5 Ways to Cope with the Stress of the Holidays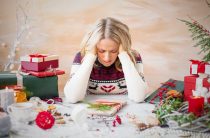 Do you usually feel stressed out over the holidays? If so, you're certainly not alone. From holiday shopping to hosting Christmas dinner to attending corporate parties and enduring oodles of family time – it can feel like a giant whirlwind to handle. But you can equip yourself with some effective ways to better cope with the stress of the holidays. Here are our top tips to get you ready for the season with less stress involved.
Don't Take on So Much
One of the biggest factors for instigating stress, especially over the holidays, is taking on more than we can handle. If you're juggling between holiday parties, taking care of the kids, planning dinner with the whole family and more, it can leave you burnt out before Christmas even arrives. So this year, make sure to lessen your load by planning things in moderation. Maybe skip a few of those parties, host a potluck instead, and get your kids and significant other to help out more when it comes to juggling everything.
Be Mindful About Overindulging
When there are ample holiday parties and gift-giving get-togethers to attend, it's easy to overindulge, whether it's holiday treats, alcoholic beverages or spending too much on that Secret Santa exchange. Things can spiral out of hand pretty fast and before you know it, you're left dealing with the stressful consequences, whether it's a little extra weight, financial stress and debt, or even embarrassing behavior. To curb your stress, be aware of your actions, practice the art of discipline and set some rules to follow, like no more than two sweet treats or alcoholic drinks per event.
Strike a Healthy Balance for Family Time
The holidays are all about family and spending more time with extended family members. This alone can be a major stress factor for many. If this is the case for you, strike a balance by limiting your visits or interactions with those family members that ruffle your feathers. It's okay to avoid certain people who provoke negative emotions and stress. So do what you need to limit the amount of time spent together with those who you don't get along with.
Determine Your Priorities
If you have a tendency to feel overwhelmed by the holidays because there's always too much to do, set your priorities before the season begins to avoid that flurry of chaos. Choose a few activities you enjoy and skip the rest.
Find a Way to Simplify
Whether it's baking, shopping, sending cards, or cooking dinner, there are ways to create shortcuts that can free up more of your time. Consider picking up baked goods from a bakery instead of making them yourself. Or mail cards only to the people you really speak to on a regular basis. Or ask another family member to host Christmas dinner this year so you can catch a break and lessen your load.
The holidays often come with an avalanche of activity, family time, and commitments, which can make it more chaotic and stressful for many of us. If you struggle to get through the holidays, reach out to us at Ottawa Counselling. We're here to listen and provide the support and guidance you're looking for. Contact us today to set up an appointment.