How to Find Secure & Lasting Love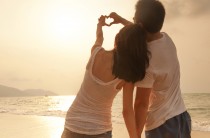 Single people often make the same mistakes when they're searching for long lasting love. They try to check off boxes of the type of person that they think they want, and tend to ignore their true feelings.
That being said, romance is a very important part of a relationship, but it is not the only part of a relationship. This is too often forgotten. Remember that a long lasting relationship depends on several other things apart from the butterflies you get in your stomach when you see that special someone. Keep some of the following thoughts in mind when you're on your journey to finding secure and lasting love.
Take some time and get to know yourself.
People often say that you cannot find someone until you've found yourself. Take the time that you have being single and really, truly get to know yourself. Discover your passions and downfalls. Find out what you're most happy doing when you're spending time alone (reading a book, going for a run, going to yoga). Being able to answer these types of questions about yourself will make you feel more confident. You'll also learn to surround yourself with people who are most like you, making your life even more fulfilling.
 "Just be yourself."
Sure, you hear this all the time from friends and family, but it definitely takes on a different meaning once you know yourself to your core. Once you've done this, you can truly start to be yourself.
Live your life as you want to live it.
Stop living your life to appeal to those that surround you, and start living your life for you. Find the things, jobs, place, and people that are meaningful to you and commit your energy to them.
Sometimes your decision to prioritise these things can upset your friends and family, but if you want to live a fulfilled life – you have to find the things that fulfill you, not others. By doing these things, you will align yourself with people on the same path as you.
Once you've nurtured a healthy, meaningful life for yourself, you will be able to find a partner who is ready to share this with you. By doing all of these things, you instantly become more attractive. You're the realest you! You're present, passionate, and mindful, and this is desirable.
When you meet someone
When you meet someone who aligns with your passions and lifestyle, take the time to let that connection grow. Don't rush things! Relationships should take a natural progression and move on when you're both ready.
Ottawa Counselling Services is here to help you through the process of getting to know yourself and finding your passions!