5 Benefits of Meditation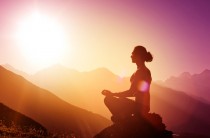 Meditation is a very beneficial form of physical and mental therapy. Different forms of meditation have been around us for many years, since the ancient times. In addition to its documented benefits in terms of mental focus and emotional wellness, meditation also has many other advantages.
Meditation can be as simple as focused breathing, or it can involve advanced techniques with complex body maneuvers. Meditation is a special technique for mind and body relaxation usually induced by a self-controlled mode of consciousness.
Meditation often is related to a religious practice, mainly related to Hinduism and Buddhism, symbolizing it as a practice of attaining a high spiritual state both physically and mentally. Many people turn to meditation as a healing platform for mental anxiety and other health disorders. Let's explore five of the many benefits of meditation, courtesy of Ottawa Counselling Services:
1. Improves Concentration
Meditation improves concentration and helps to develop a constructive attitude towards life. This is one of the top reasons for which regular meditation is prescribed by a therapist while healing a patient with anxiety or depression.
It is proven that meditating for few minutes daily helps an individual to increase his/her focus and concentration ability. Meditation is also linked with improved moods and energy level, as well as an ability to fight adversities with more confidence.
2. Improves Overall Health
Meditation is linked with an improvement in overall general health. For example, meditation has been found to be related to improvement and strengthening of an individual's immune system, fertility, and increased blood circulation. It is also highly regarded as an excellent destressing activity and helps an individual to get rid of anxiety and ease stress-related disorders.
3. Relieves Pain
Meditation is a specialized form of physical therapy that requires a fair amount of willpower, determination, and concentration. If practiced properly, meditation helps in suppressing the sensation of pain in the body, thus helping to get some relief from the annoying and unsettling pain.
4. Anti-Aging
Yes, meditation helps in slowing down the aging process of our body hence acting as an anti-aging factor. Improved sleeping habits are considered another among many benefits of meditation.
5. Weight Loss
Meditation also leads to an improved body metabolism, in turn helping your body to get rid of those bothersome extra pounds.
To learn more about meditation or to incorporate into your health and wellness lifestyle, schedule an appointment with Ottawa Counselling Services.