The 5 Most Inspiring Places On Earth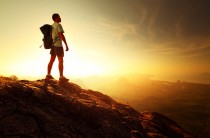 Every so often in life, we stumble upon or travel to a location that changes us forever. This newly-found paradise may give us hope that things in life will improve and that yes, life is beautiful. Certain places in the world have the power to inspire those lucky enough to travel there, whether it's the inspiration to be a better person, to fight for their dreams, or simply to start living life a little differently. Ottawa Counselling Services has put together a list of five of those places – let us introduce the five most inspiring places on earth.
Paris, France
The unique aspect of Paris, France's beautiful capital, is that it has such a captivating effect on whoever goes there. The city of love may also just be the city of inspiration – people who visit Paris will often return home and tell you they feel inspired. Paris has always boasted a bustling community of creatives, from artists to writers to musicians, and it's no wonder why. Visit this magical European city if you need to give your creativity a boost.
The Grand Canyon
The eerie peace and quiet of somewhere as gigantic as the Grand Canyon has the ability to leave everyone who goes there completely mesmerized and utterly awestruck. Spots like this one are great to visit if you're in need of a clearer, bigger perspective. Somewhere as beautiful as the Grand Canyon can really make you ponder life in general, and make you realize that the world is much bigger than your small, insignificant everyday problems.
Santorini, Greece
This idyllic Greek island is considered by many as a "world paradise," and we couldn't agree any more with them. Santorini is a beautiful, peaceful spot that's ideal for those who need to get away from the stress and pressure of daily life. It's a great spot to really relax, unwind, and really start to question how you could start living your life in a better, healthier way. You'll return home feeling like a new person, with tons of inspiration that you're keen to put to good use.
The Scottish Highlands
The amazing thing about the Scottish Highlands is that they have remained unchanged for thousands of years, and boast hundreds of ancient mythological tales that can inspire even the most uncreative of people. The miles of greenery, well-preserved castles and mystical lochs are what make the Scottish Highlands so beautiful.
Salar de Uyuni, Bolivia
Last but not least is Salar de Uyuni in Bolivia, which thousands of travellers genuinely consider to be the most beautiful place on earth. It's difficult to describe just how amazing the salt flats are – it's not every day you can come across a place that mirrors the entire sky, after all. This otherworldly paradise is exactly how we'd imagine "heaven on earth" would look, and you should definitely see it at least once in your lifetime.
And then of course, there are the inspirational places in our own backyard just minutes from Ottawa. Even a fall walk through the Gatineau Hills can be absolutely breathtaking.