The Importance of Setting Boundaries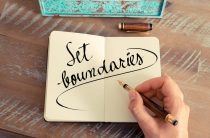 Every kind of relationship needs boundaries, whether romantic or professional, as they guide how you want and expect to be treated. With the pandemic forcing many of us to spend a lot more time cooped up together, the importance of setting boundaries is even more crucial now. Boundaries are necessary to keep relationships strong and healthy, but they're not always easy to create. To ensure your relationships are mutually respectful and caring, here are a few good reasons why you should set boundaries.
Helps You Feel Safe and At Peace
When we allow others to treat us badly, it can lead to both physical and emotional harm. As a result, we can get stuck in cycles of self-resentment and shame. By setting boundaries, you can better protect yourself and avoid being mistreated. They can also help to eliminate the tireless energy that's spent on beating yourself up over things.
Develops Assertiveness
Being assertive is something that doesn't often come naturally to many of us. But without it, we can easily get swept up into scenarios that hinder our values, build up anger and make us feel down. Boundaries are a good way to start learning how to assert your needs. By determining how you want to be treated and what you need, it becomes easier to be more assertive when communicating with others.
Dissipates Anger
Being mistreated or disrespected can make anyone feel angry. We feel angry with others, angry with ourselves for being so passive and eventually, angry with the world around us. But when you create healthy boundaries by clearly communicating your expectations, you can avoid and dissipate those intense, intrusive emotions towards yourself and others.
Ensures Your Needs Are Met
You deserve to have your needs met, but without speaking up and asking for them, you're likely not going to get them. When you start to voice your needs, you're increasing the chances of actually fulfilling them, whether it's from yourself or others.
Teaches You How to Say No
Learning to say no is a powerful thing, but it's also not so easy. When we learn to say no, it gives us the time and permission to say yes to things that we actually love and make us feel good. Boundaries can help you cultivate that "no" during those moments when you need to put yourself first.
At Ottawa Counselling, we offer a holistic and empowering approach to therapy. Whether you're looking for individual sessions or mediation between you, your family or a partner, we can help. Get in touch with us today to get the professional support to help cultivate healthy boundaries in your life.