How to Make the Most of the Cooler Weather in Ottawa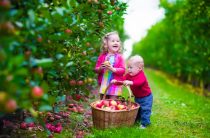 Fall is by far, the best time to get out and explore Ottawa. As a four-seasoned city surrounded by stunning greenspace, there's never a shortage of ways to embrace the golden hues and colourful foliage during this time of year. If you're searching for fun ways to make the most of the cooler weather in Ottawa, here are our top picks to discover this year.
Corn Mazes, Pumpkin Patches and Apple Picking
The fall season is all about the magic of pumpkin patches, wagon rides, corn mazes, and apple picking. If you're planning to explore some areas outside of the city this year, we recommend making a plan during the week (it's less busy) and heading to some of the lesser-known orchards. You can stock up on your pumpkins and apples for baking, run around the corn maze with the kids, and enjoy some hot apple cider – the perfect combo for a cool autumn day. The Log Cabin Orchard, Cannamore Orchard, and Proulx Maple & Berry Farm are some good spots to check out.
Cozy Up at the Drive-In
Flashback to the 90s when drive-ins were all the rage! And now, with theatres and concerts still closed due to COVID, it's the best way to get out for an evening of entertainment under the stars. To get all the details and showtimes, visit the Wesley Clover Parks drive-in theatre website.
Browse the Byward
The Byward Market is one of the best spots in the city to visit, no matter the season. With so many quaint and cozy pubs, cafes and market vendors to enjoy, there's something here for everyone. Keep your eyes peeled on their Facebook page for updated outdoor events happening during November.
Spend Some Quality Time in Nature
These days, there's nothing as soothing and rejuvenating for the mind and body as spending quality time in nature. And luckily for us, there are plenty of options, whether you're in the city or outside of it. You can hop on your bike and explore the many biking paths that wind through the city or head out for a stroll along the river to soak in the natural calm, colours and fresh air.
If you're struggling to get through the colder months this year, we offer counselling and mediation services to support you, no matter what you're facing. Whether you're dealing with anxiety, depression, OCD, family conflict, self-esteem issues, problems with your relationship, or something else, Ottawa Counseling is here to help. Get in touch with us today to get the professional guidance and support that can help you.