Why Do Siblings Fight?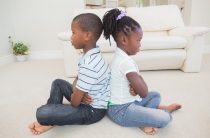 Siblings and rivalry go hand in hand, right? Of course! It's like an innate feature that comes along with brothers and sisters. But there are different levels of rivalry that can reach past your average hair-pulling and name-calling squabbles. But whether it's your average fighting, or a situation where siblings flat out avoid each another, what's to blame? While there's no single culprit, there are a few factors that play a role.
Developmental Levels
Depending on their difference in developmental levels, siblings could be set up from the start not to get along as well as you'd like them to, especially if there's a significant difference between their ages. Different ages come with different levels of development. That means the level of comprehension, maturity, and even play, may all differ greatly. So trying to force them to get along could end up being an uphill battle.
Personalities
Let's face it, when it comes to opposing personalities, it's not always easy to get along with others. So it's important to take that into consideration as well when it comes to your children. They could simply have very different personalities, which could in essence, put them on two very separate paths.
Parenting
It's no surprise that parenting has a major influence on the interactions between siblings. From the time they were little, those actions of separating them or forcing them to kiss and make up, all influence the future outcomes of how they will feel about each other. So it's crucial to be strategic when it comes to fights among siblings so they are not indirectly encouraged to dislike or avoid each other from the get-go.
So, what can you do if your children won't play nice?
Having an expert to speak to during guided sessions with you and your family, can help to mediate the situations of rivalry. And even though it may be between your children, since parenting styles are a very influential factor when it comes to sibling rivalry, it's important that you, too, are present and involved in the process.
Allot Family Time
Sometimes, simply making more room for family time can help to encourage your children to settle their differences and spend more time together. It's also a great way to strengthen those bonds and have them even work together on something, while encouraging a level of respect.
Create House Rules
Always have a firm set of house rules in order to encourage respect, acceptance, and kindness. When rules are broken, have an appropriate and mature reaction for them. When you notice good behaviour, give them praise for doing so. Proper encouragement with the right amount of firmness is always helpful.
Request an appointment or schedule a phone consultation today!