4 Goals to Set for Yourself for the Upcoming Year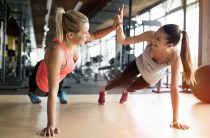 With the start of a new decade, it's important to reflect on what you've accomplished this past year! However, for your own personal growth, it is equally important to set some new goals and resolutions. If you already know what you want to achieve, and where you want to be by the end of the year, you're off to a great start! But if you're having trouble deciding where to focus, or what will be truly attainable – this article is for you!
Acquire a New Skill
It's very easy to stay in the comfort zone of doing what we're good at. Why? Well, it's much easier. This year, make an effort to challenge yourself and try something new. Whether its something you will exercise daily, weekly or on rare occasions, work at this and make it one of your stronger skills. Looking to learn a new language? There are tons of apps and resources to get you started! Hoping to improve your kitchen skills? With millions of recipes and guides at your fingertips, you are sure to find something that works for you!
Save More Money
Being financially secure is a major stress reliever.  If you don't yet have this, starting with a small financial goal is a great start! If you're confident you're already there, then it's time to set your next goal! Maybe it's to save up for a larger purchase or to put away money for future purposes. Regardless of the reason, set yourself a budget and keep track of the progress, your spending, and analyze where you can improve! At the end of the year, reflect on what progress you've made, and revaluate!
Health Goals
In order to be as healthy as you can be, it is critical to eat mindfully and exercise. This is much easier said than done – cutting out bad habits, exercising regularly, and sticking to a well-balanced diet is extremely difficult! Take small steps, and always remember to do everything in moderation. Make a goal that is attainable, and work from there. 
Become More Organized
A new year is a perfect time to start reorganizing and getting rid of items you no longer need. With the 12 month rule (if you haven't used it in the last 12 months, you don't need it), you are guaranteed to declutter your space and downsize! This can be going through your closet, bathroom drawers, pantry or anywhere else that you feel needs work! Don't forget to donate your clothing and canned food (permitting it's still okay to use).
No matter the goal you set, and the timeline you give yourself, always remember to make the goals SMART (specific, measurable, attainable, realistic, timely). If you need help discovering your goals or support carrying them out, reach out to us at Ottawa Counselling. We are more than happy to help you realize your areas for personal growth and work towards accomplishing your goals.