How to Deal with Offensive, Intrusive Thoughts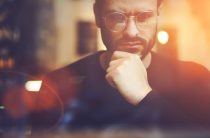 Having offensive, intrusive thoughts can seriously affect one's ability to focus and function. Have you ever been so consumed by your own thoughts that it impedes on your productivity and overall wellbeing? The thoughts you may be dealing with could surround a fear of yourself or someone you love committing an act that is offensive in nature, harmful or inappropriate. These fears can become so extreme that you become uncomfortable that the thought crossed your mind in the first place, leaving you feeling extremely confused. If this is something you've dealt with before, it's important to understand that these thoughts are not warnings, red flags or messages. They are simply thoughts, and that's all you should treat them as.
The first step in getting these thoughts under control is being able to recognize that it is an obsessive thought, where it is coming from, and why. These thoughts are typically about something or someone you care about and go against your values and the reality of the situation. For example, your brain produces a thought of you harming a loved one. The thought is disturbing, as you care deeply about this person. You begin to process the thought and can't get rid of it. Discomfort sets in, and you start questioning why you're having this reoccurring thought. Because the safety of your loved ones is a priority to you, your brain twists the thought, producing an unrealistic and alarming situation. Your mind then latches onto this thought and makes you believe it's true. It's important to recognize when this happens and not to suppress the thought.
Letting yourself process the thought may seem backwards — why am I entertaining this? To get rid of the thought, you need to understand it first. Anxiety can then heighten this feeling, and you may want to seek reassurance from someone. This is never a solution. It will only make the issue worse, as you will constantly seek reassurance every time, providing temporary relief. 
In summary, remember to try and recognize these thoughts and label them as "obsessive" or "intrusive". Process the thought, don't push it away. Remember that these actions and decisions are up to you.  Trust yourself enough that you know the reality of the situation and who you are. Don't rush this, understand that processing takes time, and it could come back. Allow the thought and anxiety to happen. The approach will be difficult, but you will see changes in frequency and anxiety levels in a matter of weeks. At Ottawa Counselling, we provide a comfortable and open environment to discuss how to cope with these thoughts. Give us a call today!