How to Keep the Spark Alive in a Relationship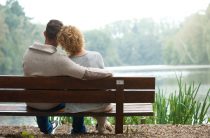 Being in a relationship for years can sometimes take a toll on your emotional connection and sexual energy. Sometimes the spark just fizzles after a while and you end up in a bit of a rut, even if you both love each other dearly. It's normal for your desires to weaken when you don't take the time to work at it through fostering communication and connection with one another. If you worry that you may have entered a black hole when it comes to your relationship, read on as we show you some ways to get that spark and intimacy back on track.
Kiss More
In the beginning of a relationship, most couples can't keep their hands off each other.  Holding hands, kissing, snuggling, are all more prominent at the start. But over time – and as life gets busy – this type of attention becomes less frequent and at times, non-existent. To get your spark again, bring back the kissing and affection. Making affection a priority will help get your relationship back on track.
Reminisce
Taking the time to reminisce about the good times you once had can help you remember what it was like when you first met. This can instantly boost your emotional and intimate connection with one another and remind yourselves why you got together in the first place.
Take a Trip
It's easier to bond with your significant other when you are away from all the chaos of regular life and the chores that come along with it. Taking a vacation together can help you strengthen your connection and spend quality time together. Plus, it's an effortless way to turn up the romance through moonlight dinners, sunset walks on the beach, and couples' massages.
Explore Your Interests
To form a stronger and deeper connection together, plan out one day per week to spend time together exploring restaurants, concerts, activities, and places that you both love. Sharing new and exciting experiences together will help you grow your relationship in brand new ways.
Be Spontaneous
Remember when you used to get up early to make breakfast in bed for your partner? Or when you would surprise them with a gift after work? All because you've done it before doesn't mean it has to stop. Doing spontaneous and cordial things for each other can help bring back the desire and affection you once had.
The main thing is to spend quality time together where you are not distracted by life. Make the time to be a "couple" again, where you focus on building your relationship and intimate connection. Before you know it, you can rekindle that love and spark that brought you together in the first place.
Couples Counselling
Communication is essential in a healthy relationship. Couples counselling can help establish healthy communication patterns, defuse frustration and resentment, and empower you to keep the spark alive as your relationship shifts from the honeymoon phase to a deeper bond.