When Should You Start Dating After Divorce?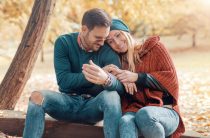 It can be difficult to determine when you should start considering dating again after enduring a divorce. Whether you feel hurt and lonely, or are just eager to move on, it's important to give yourself enough time to heal so that you can explore the dating scene in a healthy manner. Here we give you some tips to help you decide if it's time to start meeting new people.
You've Let Go of Your Past
One of the most important factors to consider before dating is whether you've moved past any feelings associated with your ex – resentment, spite, and love. If you find yourself still bringing up your ex, whether it's through stories or bitter complaints, it may not be the best time to jump back into the dating scene. Plus, nothing is worse than going on a date with someone who talks about their ex the whole time. But if you have let go of your past and have developed neutral, healthy feelings towards them, then you might just be ready. It's important to be honest with yourself either way in order to determine this.
The Idea of Dating is Exciting
All because your friends and family are ready to start setting you up on dates, doesn't mean that you are ready to engage. You need to feel ready and excited to start dating again. If you're experiencing feelings of excitement and apprehension, that's perfectly normal after a divorce – especially if you were with your ex for a long period of time. The main thing is that you want to begin exploring and engaging with others.
You Can Let Your Guard Down
If you're able to let your guard down with someone new, this can be a constructive sign for dating. Being able to engage with the person across from you and be interested in the conversation is an important part of dating. If you cannot open up to others just yet, it may be a sign you are not ready to enter the dating scene.
You Recognize What You Want
One size doesn't fit all when it comes to relationships. And there are various different styles of relationships out there. Once you understand and recognize the type of qualities that you seek in another person and relationship, you can be up front and clear about what it is that you want and don't want.
You don't have to rush. Taking time to be comfortable with dating again and deciding what you truly want is important after going through a divorce. Take the time you need and recognize these signs for when you're ready and when you are not.
Individual counselling can help you identify if you are ready to start dating again following the dissolution of a long-term relationship or marriage. It can also equip you to retrain old patterns of behaviour and develop new, healthy patterns in any future relationship.